This series about "Imperfect, Perfect Lumber" is designed to remind all of us that lumber is the perfectly beautiful result of nature. This series will address the following topics: why there is cracking in large timbers; why lumber continues to move; and why lumber continually gives.
When we compare lumber to manufactured products like plastic, however, we may see it as falling short of some ideal, cookie-cutter kind of thing. But at the end of the day, we here at J. Gibson McIlvain believe lumber is far superior than anything mankind can dream up or create — or at least that we have, to date. So in celebration of lumber, we begin the series by learning why large timbers have cracks—and how those cracks are actually part of the natural design that helps them provide the kind of structural stability they do, without truly sacrificing beauty, at all.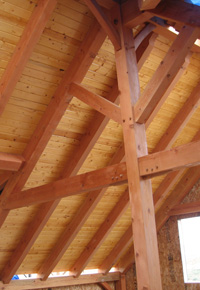 Checking may be able to be controlled in thinner lumber (4/4 through 8/4), simply because that lumber is easier to dry. However, once you get up past 10/4 to 12/4 range and then into 6×6 or 12×12 timbers, the board actually represents a cross-section of the original log. With that being the case, we shouldn't really be surprised when large timbers act a little more like logs than boards.
The abundant lumber still surrounding the moist center acts as insulation, allowing a timber to retain moisture much longer than the outer layers. As the outer layers do dry and begin to shrink, the moist inner layers keep them from doing so as much as they otherwise would. So they're forced to crack. Now, there is one reason outer layers might not crack: the center is no longer moist. If that's the case, it's actually rotten, and that really would be a problem for your job.
Depending on the species, checking or cracking will take different forms. A dense, heavy species such as Ipe will check more quickly than, say, Douglas Fir. The reason is that the greater density provides smaller amounts of empty space into which the wood fibers can compress.
Even though Ipe will display checks more easily, the wood's stability will help those checks, although abundant, to remain fairly small. Species such as Firs will respond with deeper checks, appearing more like cracks, due to the pressure that has been building up before the fibers finally give way in an explosive manner. Even though that scenario might seem dangerous to the structural integrity of your build, checking actually allows for greater stability since the internal tension within the timber has been released.
Not only can we learn from this well-engineered means of providing continued stability, but we can appreciate the distinctive beauty that checks and cracks lend to lumber. Like each knot and growth ring that makes up the gorgeous grain patterns we highly prize, each check and crack tells its own story.
Go on to Part 2 here.
Read the Entire Series
J. Gibson McIlvain Company
Since 1798, when Hugh McIlvain established a lumber business near Philadelphia, the McIlvain family has been immersed in the premium import and domestic lumber industry. With its headquarters located just outside of Baltimore, the J. Gibson McIlvain Company (www.mcilvain.com) is one of the largest U.S. importers of exotic woods.
As an active supporter of sustainable lumber practices, the J. Gibson McIlvain Company has provided fine lumber for notable projects throughout the world, including the White House, Capitol building, Supreme Court, and the Smithsonian museums.
Contact a representative at J. Gibson McIlvain today by calling (800) 638-9100.